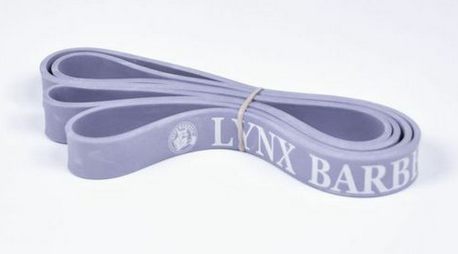 PURPLE LIGHT 1.125" x 4.5mm
---
Strength bands are a very versatile tool to add to your gym.  They can be used for stretching, bodyweight exercises, adding resistance to your power lifts, and rehabilitation.  MMA and BJJ schools use them during cardio conditioning sessions and for Judo fit-ins.  The practical uses of our bands is unlimited.  If you follow mobilitywod or other mobility sites, these are the bands they recommend.
Our bands are made from 100% natural LAYERED LATEX.  Layered latex mobility bands are the safest and most durable bands on the market.  Discount shops such as amazon or ebay sells "dipped" or "molded" shiny bands which are NOT layered.  Once these cheap bands get a small cut they will break upon load putting your athletes in danger of hurting themselves.  Buy the best bands which are these layered latex bands to limit your liability.
One of the more popular sizes.  These are great for mobility exercises and for light pull up assist.  
Length: 41" Layered Loop
Resistance:  25lb - 80lb
---
Share this Product
---
More from this collection